Meets the 2nd Thursday of the Month
Room #140 at 10:30 AM
DMA Fellowship is a senior adult ministry for those 55 years of age and older.
The initials, "DMA" stand for "Don't Mention Age." This group was organized in 1987 for the purpose of spiritual fellowship, friendship and outreach for the Lord. To join the DMA Fellowship an individual or spouse must be 55 years of age or older and attend at least one monthly luncheon or activity. Honorary membership is considered by recommendation of the officers for those not quite 55. All members are encouraged to purchase and wear the official DMA Fellowship name tag to all meetings and activities.
Officers of DMA Fellowship are elected each October, to serve a one year term. Officers must be members of Johnston Chapel Baptist Church. Serving until October 2024 are: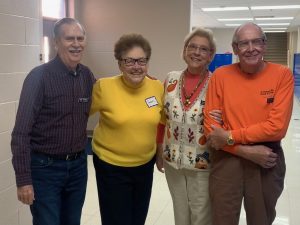 Bob Worrell – President, Jean Dickens – Secretary, Sheila Dunavant – Treasurer, Blaine Dunavant – Vice President.
Group leader is Jim Nofsinger
2023 DMA Fellowship Meetings:
January 12th – Mike & Rhonda McGraw will share a testimony of their experiences of how God brought them through the last year battling Covid.
February 9th – John O'Neal, Executive Director of the Development Authority of Mercer County, will present a program on the work of that local agency.
March 9th – We will join the Mercer Christian Academy Fine Arts Chapel at 10:45 a.m. in the church auditorium for our program. It will feature music from the MCA High School Choir, various specials from MCA students and a short message by senior Daniel Dunn.
April 13th – The Appalachian Teen Challenge Evangelism Team will share testimonies of God's grace in their lives.
May 11th – Eric & Kristanna Richardson, missionaries sent from Johnston Chapel, will present our program.
June 8th – Jo Anne Stafford, Family and Community Development Program Assistant with the WVU Extension Service Mercer County Office, will present "Healthy Meals from the Dollar General." This meeting will be held in the church fellowship hall.
July 13th – Annual covered-dish picnic at the Pavilion at 6:00 p.m. A program of music will be brought by the Halls Ridge Boys. In the event of bad weather, our meeting will take place in Room #140. Please note that this meeting will replace our regular morning meeting at 10:30 a.m.
August 10th – Riley Simpkins of the Appalachian Area Agency on Aging will bring a program WVSHIP, the WV State Health Insurance Assistance Program. She will also share information about local resources that are available to senior citizens.
September 14th – Travis Pace of the Medicare Advantage & Supplement Insurance Superstore will bring a program titled, "Medicare BeAware."
October 12th – Local historian Bill Archer, a former reporter for the Bluefield Daily Telegraph and current President of the Mercer County Commission, will bring a program on his journey as an author.
November 9th – The Mercer Christian Academy High School Choir, under the direction of Alandra Brannon, will present a "Music Missions Trip Informance."
December 14th – Annual Christmas Luncheon at the Fincastle Country Club, Bluefield, VA, at 11:30 a.m. with the meal beginning at noon. Cost is $18 per person and is due with Jim Nofsinger by Sunday, December 3, to reserve your place. (Please make checks payable to Johnston Chapel.) Pastor Jim Simmons, Pastor of Care and Outreach at the church, will bring our program.
2023 DMA Fellowship Outings:
March 3rd
Join us for an evening of fellowship and good food at the Bluestone Dining Room of the Pipestem Resort State Park for their monthly Friday night Seafood Buffet. For those needing a ride, the bus will depart from church at 4:00 p.m., with dinner to start at 5:00. Cost for the buffet is $28.99, or you may order from the menu. See Jim Nofsinger to reserve your place and seat on the bus.
April 7th
We will travel north to the beautiful campus of Appalachian Bible College in Bradley, West Virginia, for their annual Spring Music Festival, entitled Peaceable Kingdom. This unique program celebrates the great diversity and beauty of God's animal kingdom, but it also looks forward to a future kingdom when Christ will usher in the prophesied era of peace and prosperity. Several different ensembles will be performing in the Festival – the College's English handbell choir, the Chorale, string quartet, youth ensemble, as well as various other solos and ensembles. The Festival will also feature primitive American folk art inspired by the paintings of Quaker minister and artist Edward Hicks (1780-1849). We will depart from church at 4:15 p.m., stopping for dinner at a restaurant in Beckley, WV. Cost  for transportation is $3 per person. See Jim Nofsinger to reserve your place on the bus.
April 17-18th
Spring at Biltmore & The Cove is a 2-day tour to Asheville, North Carolina, that will feature:
For a tour flyer with additional details and cost, contact Jim Nofsinger. Full payment is due by February 26 to reserve your place.
June 22nd
Join us as we experience Hatfields and McCoys at Theatre WV. Hatfields and McCoys is the story of two American Appalachian mountaineer families who, with their kinfolk and neighbors, engaged in the legendary feud that attracted nationwide attention in the late 1800s. Be sure to bring a sweater or jacket for this outdoor drama at the Cliffside Amphitheatre at Grandview State Park. The bus will depart from church at 4:30 p.m., stopping for dinner in Beckley, WV. Cost is $15 per person to include transportation and admission to the show. See Jim Nofsinger by Sunday, June 11, to reserve your place for this outing.
August 15th
We will enjoy the musical comedy, Peace Like a River, at The Barn Dinner Theatre, America's Longest Playing Dinner Theatre, in Greensboro, North Carolina. It's time to celebrate Unity Day at the Harmony Valley Church, and as usual the congregation is anything but unified in this laugh-filled sequel with songs like "I'll Fly Away," "We Gather Together," "Blessed Assurance," "Heavenly Sunlight," and "Leaning on the Everlasting Arms." Cost is $67 per person for transportation, meal, show and gratuity. See Jim Nofsinger by Thursday, July 13, to reserve your place. The church bus will leave at 10:00 a.m.
October 4-6th
Dollywood Fall Harvest Festival is a 3-day tour that will feature the changing colors of a Smoky Mountain fall at Dollywood, the #1 theme part in the United States (TripAdvisor, 2022). Tour highlights will include:
For a tour flyer with additional details and cost, contact Pastor Jim Nofsinger. A $100 deposit per person will reserve your place. Final payment is due by August 16, 2023.
For additional information regarding DMA Fellowship, please contact the church office at (304) 425-6315 or Jim Nofsinger.